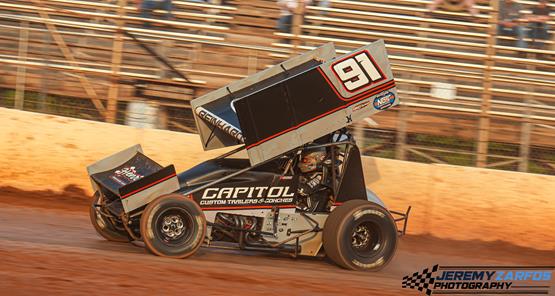 Four Race Stint with the All Stars in NJ and PA Up Next
Abbottstown, PA – May 23, 2023
by Addicted2Dirt PR & Media Mgmt
Photo Credit: Jeremy Zarfos Photography
Kyle Reinhardt has been pleased with his team's consistency thus far in 2023. For a team that is rebuilding, he has reason to be happy after reeling off ten consecutive top ten runs in unsanctioned central Pennsylvania 410 sprint car action.
Consistency is the first step toward the end goal of winning races. That's the next thing on his list that Reinhardt is aiming to check off.
Date: May 21, 2023
Event: Kevin Gobrecht Classic Qualifier
Track: BAPS Motor Speedway
City, State: York Haven, PA
Quick Stats: 28 cars, Qualifying 6th Group 1, Heat 4rd (6), A-main 9th (10)
Recovering
Reinhardt's lone race of the weekend was at BAPS Motor Speedway on Sunday night for the Kevin Gobrecht Classic Qualifier. In two prior trips to the York Haven oval this season, he showed good speed and produced quality finishes of 5th and 6th.
Qualifying for the 28 cars on hand consisted of group time trials that would set the lineup for each of three heat races. Reinhardt's qualifying run ranked him 6th in group one. It was a step behind where he had hoped to be but he went right back to work on the Capitol Renegade, Capitol Custom Coaches & Trailers, Henry's Wrecker No.91 to prepare for his heat race opportunity.
Reinhardt wasted no time getting down to business in the heat race, charging from his 6th starting spot into the 4th position on the opening lap. Jeff Halligan challenged Reinhardt for the spot, claiming it briefly on lap three, but ultimately the Neptune City, NJ native wrestled the 4th spot away for good and held on to the checkers.
Keep Digging
Reinhardt lined up outside row five for the 30-lap A-main. As the opening lap unfolded, he found himself slipping to 11th before finding his rhythm.
Reinhardt fought his way to the 9th spot by lap four and although under considerable pressure from Halligan, held onto the spot for the next thirteen circuits before falling to 10th in heavy traffic.
The battle continued through heavy traffic and Reinhardt was able to recapture the 9th spot with just a half-lap remaining.
"I feel like we made a little progress tonight but we were just kind of here.", Reinhardt said.
"I need to change up my program a little more to get better on slick surfaces like here at BAPS (Motor Speedway)."
Sponsorship opportunities are available for the 2023 season.
Kyle can be contacted via kylereinhardt46@gmail.com.
Up Next
A very busy week is on the horizon for Reinhardt and the Capitol Renegade team. They will race with the All Star Circuit of Champions on four consecutive nights, Thursday through Sunday.
Reinhardt will get to compete for a $10,000 top prize in his home state of New Jersey on Thursday, May 25th when the All Stars invade the 4-tenths mile high banked Bridgeport Motorsports Park.
Friday night May 26th Reinhardt will follow the All Stars to Williams Grove Speedway for the Doug Esh Tribute race where he will get another shot at a $10,000 winner's share.
The weekend will wrap up with the All Star sanctioned, two-day Bob Weikert Memorial at Port Royal Speedway on Saturday and Sunday nights. Those events pay $10,000 and $29,000 respectively to the winner.
Season Stats
15 races, 0 wins, 3 top 5's, 10 top 10's, 11 top 15's
Trivia Question
The answer to last week's question is Kyle Reinhardt left a mechanical engineering job in the aerospace industry in 2019 to become a full time sprint car diver!
Now, on to this week's question. True or False? Kyle Reinhardt has won a feature event at Port Royal Speedway in a 360 sprint car?
The answer in the next press release!
Partner Spotlight
Capitol Custom Trailers & Coaches is your premier dealer for Renegade, inTech and Bravo.
We have something for any budget and any venue. Capitol has become the leader in new innovative ideas and changes to the Renegade brand. Through our own experiences as Racers and Custom and Antique car collectors we have added many new designs to the product.
Our goal is to not only sell you the product that you want, but to see you through the entire ownership experience and then be there when you want to purchase your next. For 80 years, our business success has endured by this same formula.
When you are considering all your purchase options how many others can truthfully say that and back it up with their actions? Whether you are a Circle Track racer, Drag Racer, Road Racer, Custom or Antique Car Collector, Motorcycle Rider or a Luxury Motorcoach enthusiast, come in and visit to see for yourself what we are all about.
You will not be disappointed!
View our online showroom at CapitolRenegade.com and join the Renegade Life!
Learn more about Kyle Reinhardt and shop merch at: KyleReinhardt.com
Follow Kyle Reinhardt's season at: 2DPR.com/latest-news
Kyle Reinhardt Racing on Facebook: Facebook.com/KyleReinhardtRacing
Kyle Reinhardt on Twitter: Twitter.com/KyleReinhardt21
Kyle Reinhardt on Instagram: Instagram.com/KyleReinhardt21
THANKS TO OUR PARTNERS!
The entire team would like to express their appreciation to all their partners for the support during the 2023 racing season!
Capitol Renegade
Capitol Custom Coaches & Trailers
Henry's Wrecker Service
Fibreworks Composites
Maxim Chassis
FK Rod Ends
Kelly Racing Fuel
Arai Americas
KSE Racing Products
InTech Trailers
Mettec
AL Driveline
DMI
Rider Racing Engines
HP Engines
Titan Wings and Top Flight Wings
Simpson Race Products

administrator

on

May 23, 2023

Article Date: 5/23/2023

by Addicted2Dirt PR