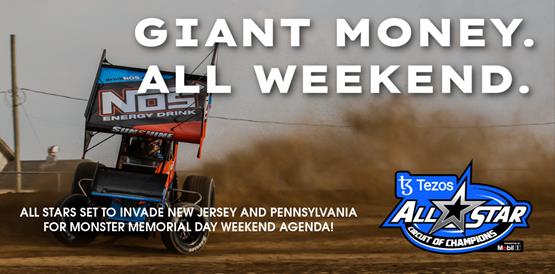 BROWNSBURG, Ind. (May 24, 2023) – Memorial Day weekend is set to be a monster for the Tezos All Star Circuit of Champions presented by Mobil 1, as the Series is ready to invade three tracks in four days for four separate events, all of which adding up to a $59,000 winning potential. If you break it down, all four programs will award a minimum of $10,000-to-win with the holiday headliner paying a whopping $29,000-to-win on Sunday, May 28. The action will commence officially tomorrow evening, Thursday, May 25, at Bridgeport Motorsports Park in Swedesboro, New Jersey; the first and only Garden State visit for the traveling All Stars in 2023.
Bridgeport Motorsports Park, just across the Delaware River from Philadelphia, last hosted "America's Series" on August 25, 2022, with Buch Motorsports' Justin Peck scoring the $12,000 share over "Sunshine" Tyler Courtney and the "Concrete Kid" Anthony Macri. In fact, last year's appearance was a first-ever for the Tezos All Stars, quickly transitioning into a highly-anticipated destination.
The world-famous paperclip, Williams Grove Speedway in Mechanicsburg, Pennsylvania, will host the All Star Circuit of Champions on Friday, May 26, which will honor Central Pennsylvania great and former open wheeler, "The Hammer" Doug Esh. Dubbed the Doug Esh Tribute, the Friday night blockbuster will award a $10,000 share, simultaneously commemorating Esh's career that included a 2006 World of Outlaws National Open victory and a $50,000 prize; it was the richest payday in the track's history.
The notorious "Speed Palace," Port Royal Speedway in Port Royal, Pennsylvania, will round out the All Stars' Memorial Day weekend swing through the Mid-Atlantic with back-to-back programs on Saturday and Sunday, May 27-28. Celebrating the achievements of legendary Pennsylvania car owner, Bob Weikert, the two-day Bob Weikert Memorial will award a total winner's share equaling $39,000; $10,000 on Saturday and $29,000 on Sunday. Central Pennsylvania hotshot and Dillsburg native, Anthony Macri, swept the 2022 Bob Weikert Memorial, beating Hall of Famer Lance Dewease to the line on night one, followed by a triumph over Brent Marks on night two.
The Tezos All Stars will head into the weekend fresh off of a pair of New York visits to Outlaw Speedway in Dundee, New York, and Weedsport Speedway in Weedsport, New York, on Friday and Sunday, May 19 and 21. Zeb Wise, back to work after an injury timeout, scored the $8,000 share at Outlaw Speedway, with Cory Eliason, now in charge of the Crouch Motorsports No. 11, finding the top spot at Weedsport.
For those who can not witness the All Star Circuit of Champions live and in person, FloRacing.com, the official media partner and broadcast provider of the All Stars, has you covered. To access live and on-demand racing action from the All Star Circuit of Champions, visit FloRacing.com and become an annual PRO subscriber. Race fans can see all the USAC and dirt late-model action they want in addition to Eldora Speedway's slate of races and those of the All Star Circuit of Champions. The subscription unlocks access to premium content across the entire FloSports network. Watch the events across all screens by downloading the FloSports app on iOS, Android, Apple TV, Roku, Amazon Fire and Chromecast. Find subscription here: https://flosports.link/3XJOg5Z
2023 All Star Circuit of Champions Driver Standings (As of 5/21):
Tyler Courtney – 1006
Parker Price-Miller – 965
Chris Windom – 930
Hunter Schuerenberg – 904
Tim Shaffer – 898
J.J. Hickle – 892
Scotty Thiel – 862
Conner Morrell – 804
Zeb Wise – 706
Zeth Sabo – 666
About Tezos:
Tezos is smart money, redefining what it means to hold and exchange value in a digitally connected world. A self-upgradable and energy-efficient Proof of Stake blockchain with a proven track record, Tezos seamlessly adopts tomorrow's innovations without network disruptions today. For more information, please visit www.tezos.com.
About Mobil 1:
The world's leading synthetic motor oil brand, Mobil 1™ features anti-wear technology that provides performance beyond our conventional motor oils. This technology allows Mobil 1 to meet or exceed the toughest standards of car builders and to provide exceptional protection against engine wear, under normal or even some of the most extreme conditions. Mobil 1 flows quickly in extreme temperatures to protect critical engine parts and is designed to maximize engine performance and help extend engine life. For more information, visit mobiloil.com, on Twitter @Mobil1 and, on Facebook, www.facebook.com/mobil1. Mobil, Mobil 1 and Mobil 1 Racing are registered trademarks of Exxon Mobil Corporation or one of its subsidiaries.
About FloSports:
Founded in 2006, FloSports is a subscription video streaming service dedicated to sports, offering live and on-demand access to hundreds of thousands of competition events across 25+ vertical sport categories in the US and abroad. FloSports' vision is to give underserved sports the love they deserve. With a growing library of more than 300,000 hours of premium content including news, expert commentary, films, documentaries and more, FloSports has established itself as an innovator and leader in sports streaming. Finally, your sport has a home. For more information, please visit: flosports.tv.
About the All Star Circuit of Champions:
All Star Enterprises, LLC, wholly owned by Tony Stewart, d/b/a the All Star Circuit of Champions, is a winged sprint car series. The All Star Circuit of Champions Sprint Car Series is one of the oldest traveling 410 sprint car organizations and is a staple of grassroots, open-wheel racing. Formed in 1970 by Bud Miller, the series has largely been considered the first 'outlaw' Sprint Car organization of the modern era. Motorsports entrepreneur Tony Stewart agreed to terms with Guy Webb to become the sole owner of the original winged sprint car tour in January of 2015.
Photo: Wayne Riegle
Contact: Tyler Altmeyer
Tezos All Star Circuit of Champions presented by Mobil 1
(724) 954-4915, pr@tonystewart.com

Tyler Altmeyer

on

May 24, 2023

Article Date: 5/24/2023

by Tyler Altmeyer