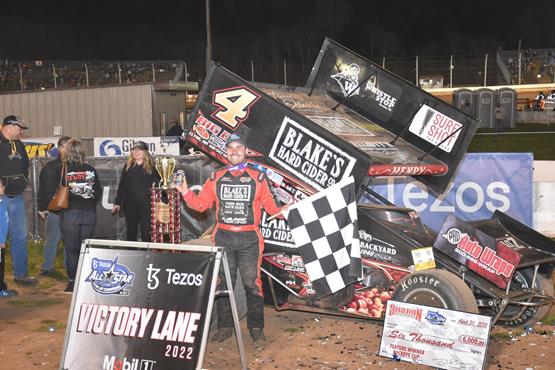 By Mike Leone
April 30 2022
(Hartford, OH)…Sharon Speedway swung open the gates for the first time in 2022 on Saturday night as the Tezos All Star Circuit of Champions Sprint Cars presented by Mobil 1 made their first of four appearances of the season. Celebrating their wins in the Hovis Auto & Truck Supply victory lane on Bala Management Night were Cap Henry-All Star Sprints and Jeremy Double-Whelen Econo Mods. Special thanks to Krill Recycling, who added $1,000 to the purse split amongst the top three finishers in the All Star feature.
Back on the All Star tour full-time for the second straight year, Cap Henry emerged victorious after a wild last two-lap scramble sneaking under new leader Brent Marks in lapped traffic off turn four on the final lap for his first Series win since July 23, 2021. Henry led only one lap, but it was the lap that counted for the $6,500 payday in the 30-lap "Buckeye Cup" main event. Just one lap prior, Marks had went third to first stealing the lead away from race long leader George Hobaugh.
"I saw Brent (Marks) miss the bottom there in the final two corners and I drove this thing in there as hard as I could- harder than I have the whole race," explained the 31-year-old Republic, Ohio driver. "I think we bumped tires there coming off of (turn) four. I didn't do it on purpose- I just wanted to try and win one. You never want to get too confident, but this team has been doing all of the right things. We started the year off a lot better than we did last year. I'm just so proud of everyone involved."
Marks had went third to first on the opening lap, but a caution for Brandon Spithaler created a complete restart and this time pole-sitter Hobaugh took off in the lead over Henry and Marks with Zeb Wise and Parker Price-Miller in tow. Sixth starting Justin Peck moved into the top five on lap four passing Price-Miller then grabbed fourth when he drove around Wise on lap seven; meanwhile, Hobaugh had opened up a straightaway lead when he caught lapped traffic.
As Hobaugh continued to lead through traffic, Marks and Henry raced side-by-side for several laps with Marks getting by on lap 12. After falling out of the top five, Price-Miller got by Wise followed by a pass of Peck for fourth on lap 16. Carl Bowser slowed to bring out the caution with 22 laps completed.
Hobaugh's advantage began to slip away late as Marks and Henry closed in. On lap 28, Henry nosed of Marks at the line for second, but entering turn one Marks made an impressive move slicing between Henry and Hobaugh to steal the lead and first career All Star win away from Hobaugh. Henry, Price-Miller, and Wise were also able to get by the fading Hobaugh on the 29th circuit.
On the final lap, Marks tried driving around Jared Zimbardi in turn three, but got caught behind Brandon Matus; Zimbardi then slid past Matus with Marks getting hung up allowing Henry to fly into turn four on the bottom and steal the win away from Marks. Henry's seventh career All Star win came by just 0.140 seconds in the Lane Racing, Blake's Hard Cider-sponsored #4. It was Henry's second career win at Sharon, but first since a $3,000 FAST-sanctioned victory on August 19, 2018.
Marks, who was looking for his second All Star win of the season, settled for second and picked up a $300 bonus from Krill Recycling. After falling back to sixth at one point, Price-Miller crossed the finish in third for his first podium finish of the season with the All Stars and earned a $200 bonus from Krill Recycling.
Wise was fourth. After leading the first 28 laps, Hobaugh faded to a disappointing fifth at the finish yet continues to shine at Sharon. Completing the top 10 were Peck, All Star points leader Tyler Courtney, Ryan Smith, Bill Balog, and Dave Blaney in his first race of 2022.
Courtney went out 39th out of 41 cars and set fast time overall in qualifying with a lap of 14.683. Blaney, Hobaugh, Balog, Peck, and Eliason won the heat races. Hobaugh also won the dash. Chris Windom copped the B main. The All Stars will return to Sharon on Tuesday, June 14 for Ohio Speedweek.
Ninth starting Jeremy Double survived a three-wide battle for the lead then snuck past Dennis Lunger, Jr. on lap 14 to win a caution-filled, time-shortened Whelen Econo Mod feature. Double's 17th career Econo Mod victory was worth $500 and came in his 2 Brothers Motorsports/King Bros./Wedge Motorsports/Russ King Racing/Malone Diesel/Bala Management/Honey Labs-sponsored #83.
"It was a pretty good night for us but I'm sure those guys weren't very happy with what happened in turn one," explained the 26-year-old Bristolville, Ohio driver regarding the three-wide battle for the lead. "It was a racing deal; there was a door open and you go for it. I hate to see Will (Thomas) tore up, but I can't just sit back and watch. I was nervous after the heat races with the lap times, but it seemed pretty good in the feature. I'm pretty happy with what we changed in the offseason."
Garrett Calvert led the first eight laps in search of his first career Sharon win; however, seventh starting Lunger made the outside work on the restart taking over on lap nine. Will Thomas III started fifth and moved into second past Calvert on lap 12 and raced side-by-side with Lunger for the lead before a caution with 13 laps completed. On the ensuing restart, it was three-wide for the lead in turns one and two with Lunger, Thomas, and Double battling it out; contact occurred with Thomas spinning and collecting two other cars.
Following another caution when drivers were told the next caution would be the checkered, Double slipped under Lunger off turn four to lead lap 14 just before yet another caution that would bring the race to a conclusion. Double is now just four wins behind Brandon Blackshear's all-time division leading mark of 21. Lunger was second over Calvert. After getting involved in an early caution, Dustin DeMattia worked his way back to fourth at the finish over Andy Buckley. Double, DeMattia, and Lunger won the heat races over the 25-car field.
Coming up next Saturday (May 7) will be a "Super Series" event featuring the "410" Sprint Cars for $3,000 to-win along with the Gibson Insurance Agency Pro Stocks, HTMA/Precise Racing Products RUSH Sportsman Modifieds, and the Whelen Econo Mods. Pit gates open at 4 p.m. with grandstands at 5. Sprint group qualifying will be at 6:30 p.m. followed by racing.
All Star Circuit of Champions Sprint Cars (30 laps, $6,500 to-win): 1. CAP HENRY (Lane 4) 2. Brent Marks (19) 3. Parker Price-Miller (McGhee 11) 4. Zeb Wise (10) 5. George Hobaugh (40) 6. Justin Peck (Buch 13) 7. Tyler Courtney (Clauson-Marshall 7BC) 8. Ryan Smith (BJD 6) 9. Bill Balog (17B) 10. Dave Blaney (10) 11. Cory Eliason (Rudeen 26) 12. Hunter Schuerenberg (Vermeer 55) 13. Kyle Reinhardt (91) 14. Greg Wilson (Seeling 97) 15. Kevin Thomas, Jr. (Snow 9K) 16. Sammy Swindell (Grove 70) 17. Tim Shaffer (Grove 28) 18. Sye Lynch (42) 19. Dan Kuriger (08) 20. Chris Windom (Hayward 19) 21. Brandon Spithaler (22) 22. Bradley Howard (Coldren 07) 23. Jared Zimbardi (35) 24. Brandon Matus (13) 25. Carl Bowser (11) 26. Skylar Gee (99).
DNQ for the feature: Jeremy Kornbau (27K), Dan Shetler (Pryde 29), Scott Bogucki (Snow 7), Bob Felmlee (6), Jeremy Weaver (35W), Logan McCandless (29), Scotty Thiel (73), Brett Brunkenhoefer (47), Nathen McDowell (11), Brent Matus (33), Darren Pifer (23), Josh Baughman (17), Adam Kekich (5K), Darin Gallagher (Peluso 12), Chase Metheney (31c).
Whelen Econo Mods (20 laps, $500 to-win): 1. 83-JEREMY DOUBLE [9]; 2. 71L-Dennis Lunger Jr[7]; 3. 7G-Garrett Calvert[3]; 4. 77D-Dustin DeMattia[8]; 5. 965-Andy Buckley[6]; 6. 2-Scott Burk Jr[18]; 7. 75-Travis Creech[10]; 8. 89-Junior Mechling[11]; 9. 17-Jason Gracey[19]; 10. 13-Jordan Simmons[16]; 11. 9-Will Thomas III [5]; 12. 98-Keith Felicetty[13]; 13. 2P-Branden Porter[4]; 14. 52M-Daniel Moffitt[2]; 15. 60-Mike Bihler[15]; 16. 23-Gary Olson[14]; 17. 12-Troy Pinch[12]; 18. 16B-Tylar Barr[22]; 19. 37-Ryan Wisniowski[24]; 20. 15-Eric Nellis III[23]; 21. 9JR-Emily Stoyer[20]; 22. 20-Alex Siekkinen[17]; 23. 71A-Don Watson[1]. DNS: 56-Bryan Wagner, 14D-Jamon Davis.
Sharon Speedway is owned by the Blaney, Weller, and Kirila Families and is a 3/8-mile dirt track located on Custer-Orangeville Road in Hartford, Ohio near the intersection of Routes 7 & 305. For more information, check out the website at www.sharonspeedway.com or call 330-772-5481. Become a fan of Sharon Speedway on Facebook at www.facebook.com/sharonspeedway and follow us on Twitter at www.twitter.com/sharonspdwy.

administrator

on

May 01, 2022

Article Date: 5/1/2022

by Mike Leone